I don't often talk about my faith on this blog. Plain and simple; I complain. A LOT. Rest assured fellow saved constituents, I write and say here what I'd never admit to in public. [inserting political correctness here] It isn't a full picture of our family and how we live our lives; just a glimpse into my mind.
Today is a Holy day in the Catholic Church. The
conception of Mary to Ann and Joachim. It is one of my favorite Holy days. Today in church the Priest gave an amazing homily. He was telling us a story about himself in the 80's when he was teaching a group of 40 adult RCIA students. (Adults who want to be Catholic) He was in Canada and his 'students' were mostly Italian, Portuguese, and Spanish immigrants whom as a whole asked him more stumping questions than any other group, ever. On one particular night he brought the group into the church to show them the beauty of our traditions through the stations of the cross, the alter, and the sanctity of Mary's sacrifice. Just as he (the priest) was about to start a lecture one of the students said "Please, I am seeing eight different versions of Mary, tell us
, which one is the one." The priest tried his best to explain that they were all right, that they were all created through God's gifts, through the artists vision of truth. And if something, anything is created through truth than it is right in the eyes of the lord. Profound.
The church had the typical American Mary, blue eyes, blond hair and Our Lady of Guadalupe, plus Mary of the Street which is a dark haired olive skinned version from Italy. All beautiful and all "right".I was having this same conversation with my Mother in Law last week. We were discussing the different perceptions of Mary. I love getting that connection, like the sermon was meant just for me. Like I was the only one there, like the message was all mine for the taking. I know it isn't a far stretch; a priest talking about Mary on a Holy day about Mary; but I swear the words he used were exactly tailored to me.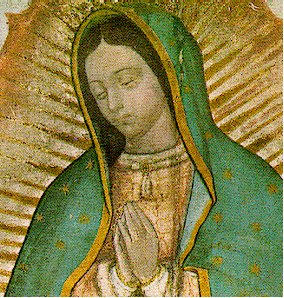 Profound thinking: "It is right if it was made from truth". I can apply that one in so many aspects. Certainly mine for the taking. I have been up and down this week. Struggling one minute and then dancing the next. My desire to have larger family is so strong. Quiet just makes me cry. It isn't suppose to be like this, and I've been constantly praying that I'd know how to carry on his will. That I would know where we are suppose to "go" next. There is nothing mysterious about this work; it was plain as day; seek ye first the kingdom of God, the truth, that is what is right. The truth is I was praying for his will but vying for my own. Mary, truth: I see see a brighter path.
PS: When searching for pictures of Mary on the internet do not just type in MARY on Google Photo. Nothing holly about that scene! Yikes.